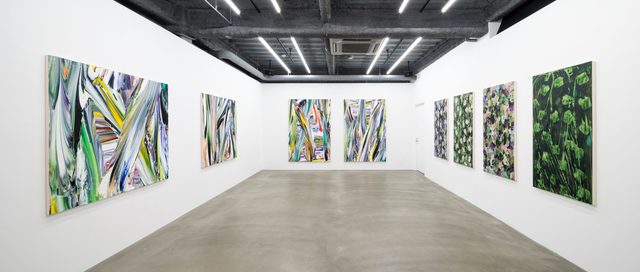 Main Gallery
SUPER PRISM
Mitsumasa Kadota
2022.05.13 Fri - 6.11 Sat
Tezukayama Gallery is pleased to present the solo exhibition SUPER PRISM by Mitsumasa Kadota. Opening day is May 13th.
Kadota was born in 1980 in Shizuoka, and he is currently based in Saitama prefecture. He has been presenting abstract paintings with various materials and colors with the theme of inquiring into painting expression possibilities and indentities. He is one of the artists who has drawn attention to his achievements and works and his work was collected by the Sezon Museum of Modern Art. He presented works that he painted over his old works of him and beyond several contexts in 2019. The passionate stroke shows his strong inquisitiveness towards painting.
At this exhibition, we will present the new works that focus on the multiplicity of the painting by Kadota, who is seeking the essence of the painting. We will exhibit the work that has evolved from the TAMENTAI series that he examined about multiplicity. What will he show us in this world filled with an overwhelming amount of information and opinions that have added more chaos to it?
【Artist's statement】
SUPER PRISM (whereabouts of multiplicity)
Just like justice is also an evil on the other side, there are ways of ideals, different answers, and reasons and meanings for each person.
As various individuals are being mixed, I think the importance of not contradicting the appearance or personality, the distancing to avoid unnecessary interference, laws for slanderous defamation, or the morals of these days have been changing in the modern age.
I am restless since I was a child, however, somehow good at thinking about the characteristics of shapes and spaces. And perhaps the fact that I am examining the problems of separated frames, relationships between parts where colors and strokes are tangled up and the entire painting and multiplicity of painting is proof that the source of motivation for my inquisitiveness has never changed, as well as proof that I am still confronted with the essence of myself.
Just like a kaleidoscope disperses the complexion, or a prism resolves the wavelength of light, I am searching for the whereabouts of the essence that reflects on our eyes through my paintings.
April 2022 Mitsumasa Kadota