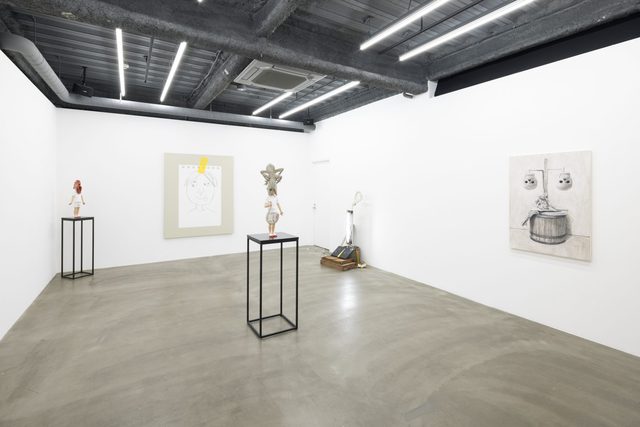 Main Gallery
Guru-guru to Hook
Yoshiyuki Ooe
2021.11.19 Fri - 2021.12.18 Sat
TEZUKAYAMA GALLERY is pleased to present "Guru-Guru to Hook", a solo exhibition by Yoshiyuki Ooe.
Yoshiyuki Ooe was born in 1980 in Osaka, and he has continued working in Osaka until his present career. When he first debuted as an artist, he produced many paintings that centered around his self-portraits. However, after 2007, he started to produce sculptural work concurrently with his previous styles. His works havebeen presented in Taiwan, New York, London, and Basel, as well as in and out of Japan successfully.
He is interested in things that change their own meaning or recognition by moving the perspective towards them. By putting heterogeneous motifs together and making them separate from their peculiar context, they become part of the new image. In Ooe's works, skeletons, chicken heads, bugs, or reptiles are used as motifs, and these are internalized as a metaphor. By speculating carefully on the relationship between motifs that are composed like a collage, the work will show multiple understandings or stories and will arouse the imagination of the audience.
This solo exhibition, which will be his first in three years, will be curated with his new sculptures and paintings, which include the size of 1620 x 1303mm. As well as the drawings that are being put on the wall of his atelier or the maquettes of his sculptures, they will be placed on his paintings as motifs that strike us to think of an eye sight of metaphor. That eye sight could be Ooe's point of view when looking at the circumstances in front of us and the world status right now, philosophically and cynically.
Please take this opportunity to view "Guru-Guru to Hook", a solo exhibition by Yoshiyuki Ooe.
[Artist's Statement]
There was an insect cage with plants and sticks.
I turned them over, there was a praying mantis that was eating a grasshopper. 
The praying mantis had a face like an alien.
(I have never encountered aliens yet.)
I was looking at the wall of concrete, there was something moving.
I came over to look closely, there was a house gecko that was mimicking the concrete.
I looked more carefully, that house gecko's tail was ripped.
There are drawings that were being put randomly on the wall of atelier.
My favorite drawing looked different than it was before.