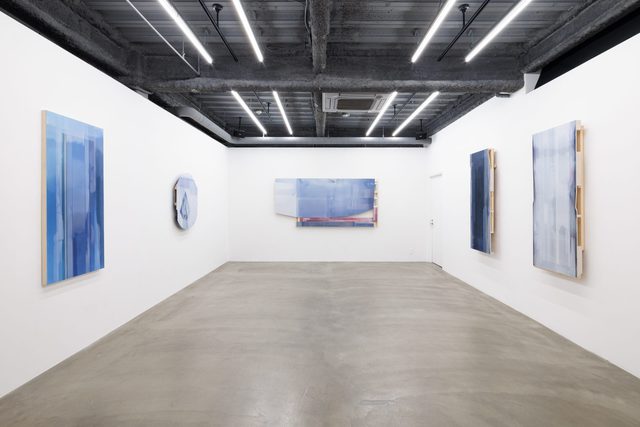 Main Gallery
Pathway
Naosuke Wada
2022.03.25 Fri - 2022.04.23 Sat
TEZUKAYAMA GALLERY is pleased to present the solo exhibition "Pathway" by Naosuke Wada.
Naosuke Wada was born in Hyogo prefecture in 1983. He finished a master's degree at Kyoto University of Arts. He continued his career in Kyoto after his graduation however, he moved to Osaka to seek a wide range of opportunities and creations. Not only in gallery or art fairs exhibition but also presenting his work at REF Kyoto Hachijoguchi by VESSEL HOTELS that opened last March and attracting the attention from extended areas.
His work refers the "glazing" which is an old method that applies very weak concentrated paints for several layers. And under the theme of light and space, using this highly transparent medium and trying to construct his own unique painting expression. The surface that has sensitive color layers and depth created by layering highly transparent paints enfolds the light itself, and it changes a bit of its own shape or colors depending on the distance or audience's point of view. Additionally, the shimmering of the lights that continue to appear and disappear just like mirage or fog indicates that changes are always happening at levels that humans will not recognize. And it also connects the memories and imagery of the audience at the same time.
In this exhibition, he is creating new tensions in the works that are missing a part of the supporting medium or extracting the physical changes that occur in elapsed time, like disappearing, constricting, and curving, and including the unstableness of the structure with the basic creative methods that have been stated before. The artist is saying that he wants to share the experience of completing the colors and shapes that are missing from the work by the imaginations with the audience. Please take this opportunity to take a look at his first solo exhibition at TEZUKAYAMA GALLERY, "Pathway".