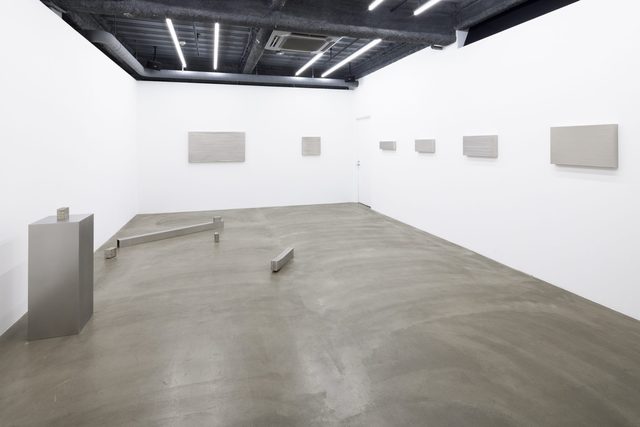 Main Gallery
Exhibition 2022
Yuki Tsukiyama
2022.6.24 Fri - 7.23 Sat
TEZUKAYAMA GALLERY is pleased to announce a solo exhibition Exhibition 2022 by Yuki Tsukiyama.
He was born in Kobe city in 1976 and graduated from Kyoto University of Arts (sculpture course). He has been based in Kobe city since his debut and has been presenting his work around the Kansai area.
He uses various kinds of materials such as metal, resin, wood, and painting. However, his origin of creation is always the materials themselves. He experiments over and over; he calls this "playing," and he grasps the characters of materials from the experiment. In terms of that, he uses the character of materials as part of his main point of work. He has a consistency that comes from it. Additionally, he constructs his work with simple elements however, he does not stick with one style and always creates new works with continuous curiosity and open-minded thoughts.
Drip the paint on the duckboard and keep layering the paint on it, or cut a 250kg camphor tree into 6 pieces by hand for a few months and turn it into a sculpture. This act of repeating itself is one of the important factors in Tsukiyama's work.
Starting with 2017's solo exhibition at TEZUKAYAMA GALLERY, he started the Exhibition Project that will exhibit every year with new works for 10 years. At this 6th exhibition of this project, we will present the works that used stainless steel.
Please take this opportunity to take a look at this exhibition.
【Artist's statement】
I presented a collage work named "everyday" at hanarart2021 that kept tearing off the newspaper by hand for a year and four months. I was able to tear the newspaper everywhere at home, or even outside, and this method brought me a new paradoxical idea.
What if I make the new works out of heavy stainless steel, which requires a technique and time to process, raising the price? I committed to this exhibition with the several limitations surrounding me, which I comprised into my concept of work.
I would like to present the existence of this material that shines sharply, or sometimes glaringly quietly.