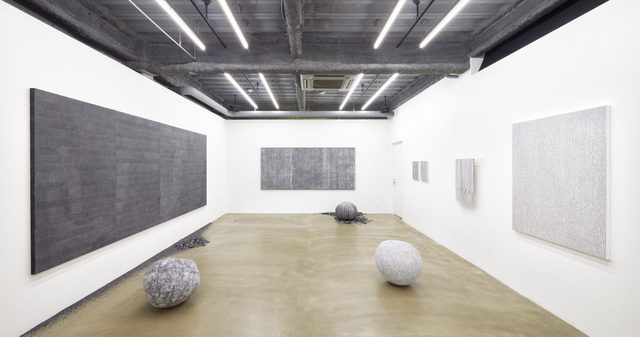 Main Gallery
Carved Painting – Monochrome –
Atsuo Suzuki
2021.09.17 Fri - 2021.10.16 Sat
TEZUKAYAMA GALLERY is pleased to present Carved Painting -monochrome-, a solo exhibition by Atsuo Suzuki from September 17th. 
Born in Aichi prefecture in 1977, Suzuki finished his master's degree in education at Shizuoka University. Currently, he is based in his hometown of Toyohashi City, Aichi Prefecture. He calls his own works "Carved Painting", and by carving out the multiple pigment layers painted repeatedly on the panels with a carving knife, he produced many works with an art style that paints various design patterns. The production method is similar to carved lacquer in terms of techniques, but the surface of the paintings created by Suzuki offers to the viewers vivid traces of an artist's conduct to an extent where one can even feel the artist's breath. And, at the same time, the fault lines on the pigments that manifested through the repeated act of "carving" tell a story about the enormous amount of time the artist had spent confronting the works.
At his first solo exhibition at TEZUKAYAMA GALLERY in 2019, he presented a large-scale exhibition with the only work with primary colors: red, blue, and yellow, including three big-sized works. We were able to see the overwhelming existence by different kids of carving finishes caused by differences in the carving knives. 
At this exhibition, we are going to exhibit black and white monochrome works, it will give a totally different expression. Suzuki's creative desire is tremendous and always searching for a new image and try out. Suzuki has been creating his three-dimensional works with the same method of "carving" however, we will exhibit a mixture of new sculptures and paintings. Additionally, we will also exhibit three-dimensional that made from paint peace that fell off from the carved paintings and some small paint works. 
Please take this opportunity to see his works at this time. 
[Artist's statement]
I attempted to create a strong screen by using primary colors of red, blue, and yellow at my solo exhibition two years ago. And recently, I am searching for a relationship between paintings and paint pieces that fell off from the painting when it is being carved. I am aiming to make a space the audience's eyes can go around the space by flattening, hanging, or dispersing those pieces of paints to have relevancy in the same space in the gallery.