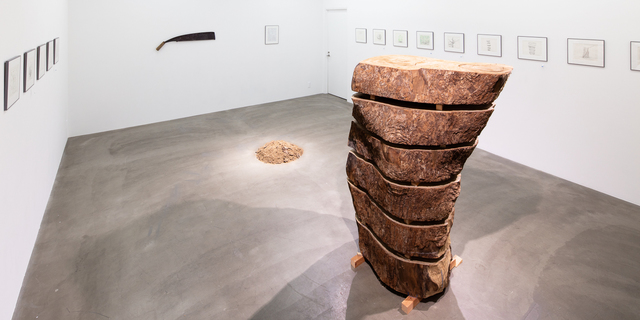 Main Gallery
Yuki Tsukiyama Exhibition 2020
Yuki Tsukiyama
2020.6.26 Fri-2020.8.1 Sat
TEZUKAYAMA GALLERY is pleased to announce a solo exhibition "Exhibition 2020" by Yuki Tsukiyama from the 26th of June.
Tsukiyama was born in 1976 and graduated from the Sculpture Course of the faculty of Art & Design, Kyoto University of Art & Design. Now, he is a professional sculptor proactively contributing to various artistic activities in the Kansai area with Kobe, his hometown, as his base.
He works on various materials such as metals, resin, wood, and painting and the original concept of his work is always the materials themselves. He named his work "playful" experiments which aim to capture the unique features of the materials repeatedly from time to time. The expression of such a consistent pursuit demonstrates the consistency in the conceptual idea in his creation. Also, though the key elements in his constitution are always simple, he is versatile, so the works are never limited to certain styles- they show flexibility and curiosity at all times.
The exhibition this time is a series of two-dimensional works with the use of potter's wheel that he has continuously worked on in recent years.
[Artist Statement]
On a certain night when I walked down the stairs from the railway platform to the gates, I came to realize that the anti-skids of the stairs are glittering.
"It's the universe…"
The discovery of the twinkling stars on the ground in the countryside impulsively brought to the productions with turns in these years. Plywood, paint, glitter, glue for woodworks…the materials for this new production are all simple things everyone can easily get handy. While huge works illustrating long-distance and longtime were created from them and it simply portrays how fascinating art is.
Yuki Tsukiyama