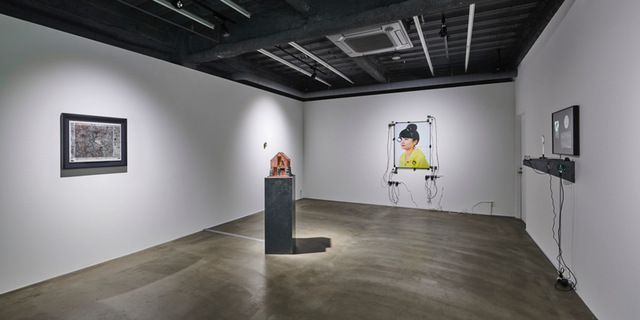 Main Gallery
WOODS
Kohei Yamashita
2017.11.17 Fri-2017.12.16 Sat
TEZUKAYAMA GALLERY is pleased to announce its upcoming exhibition "Woods" by Kohei Yamashita.
Yamashita is a working artist in Kyoto who was born in 1983 in Ibaraki prefecture.
In Kyoto City University of Arts Graduate School, he began his studies in conceptual and media art. Since then, Yamashita has been creating artwork based on a sense of distance. With themes like perspective and current position—through expressions not bound by common mediums such as paintings, sculptures, photographs, and installations. In addition, physical sensations are used symbolically, which includes his personal experiences and memories from mountain climbing.
In recent, he had extended further his range of unconventional approaches to artistic expression. With two other artists Rui Mizuki and Tomoko Atsuchi, they published an art book titled "Collecting Sides". They created this under the concept of having an "exhibition" on books. This book was compiled of original works by a group of 10 artists residing in the Kansai area. This created a new platform for artists to present their work.
In 2015 – 2016, Yamashita took on two exhibitions within a year – The Glory (of the phenomenon) Act l & II. The first one was held at TEZUKAYAMA GALLERY collaborating with Tokyo-based sculptor, Yusuke Suga, then later in "II", with the additions of Kento Nito and Kurumi Wakaki at Hotel Anteroom Kyoto. These collaborations explored the theme "Chuukei" (in translation, "mid-distance"). Prior to this, the artist focused mainly on the experiences of climbing at the starting and endpoint. He felt that the distance in between was ignored and this was his chance to explore it and the struggles within along with his fellow collaborators, which, had resulted in their artworks.
For the first time in four years, Yamashita will be having a solo exhibition. With works based on the word "lost", it is Yamashita's own experience from the time he ran off track in the mountains a few years ago. Yamashita recalls, "Oddly, it was calmness within me as I found out I was lost in the vast mountain. As opposed to feeling lost or threatened, I felt a strong sense of my position. It was as if I could see my situation in the perspective of a bird's-eye view, outside of the map and its routes. It was a paradoxical experience".
Through this exhibition, we hope the viewers would allow Yamashita to invite them into his viewpoints and his experiences.