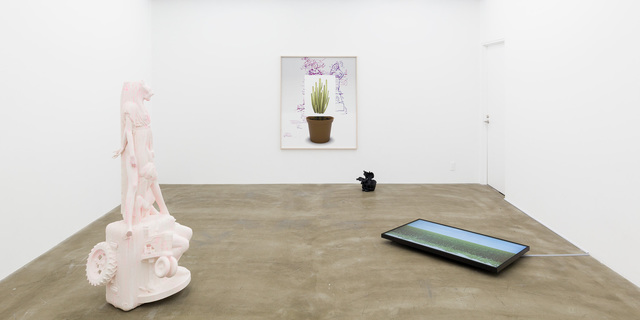 Main Gallery
The Covered Finger
Daisuke Ida
2019.11.15 Fri-2019.12.14 Sat
TEZUKAYAMA GALLERY is pleased to announce that "The covered finger" – the first solo exhibition by Daisuke Ida.
Daisuke Ida completed the MAD Artist Practice the following year after completing the Graduate School of Fine Arts at Tokyo University of the Arts in 2015. Currently, he has been pursuing his activity with Tokyo as its base.
Increased gap between rich and poor, emphasis on excessive productivity and elimination of humanity, the collapse of inherent spiritual culture… As modernization and globalization progress, various harmful effects are emerging. Ida has created artworks using several media such as sculpture and video, with themes of social system distortions and dilemmas as described above, while dismantling and reconstructing specific events in modern society.
For example, in his video installation "paper wheels *1" presented at "Fuji no Yama Biennale 2016" using paper rolls and tricycles in a way that suggests the impact of globalization on local industries with the silk milling industry since the appearance of the Internet as its main theme, and suggests the impact of globalization on the local industry.
In addition, at the solo exhibition "Photo sculpture *2" in 2018 he announced his artworks expressing the problems such as aura in the age of sculpture expression, SNS and replication technology, problems of original and copy, image and realism emerged after the appearance of the Internet while citing Rosalind Klaus and Jean Baudrillard.
Although these artworks include topics of social structure viewed from the macro point of view, the starting point was always in "small details". "Paper wheels *1" mentioned above relates to a particular local story in a region of Japan, and "Photo sculpture *2" consists of a large number of small pieces posted by individuals on the Internet.
Considering the "small details" and making them a starting point is a problem of an individual artist who is pondering how the existence of an individual with reality connects with the world as a "whole". Ida poses questions to society and the world having a large amount of , with his sense of humor and fiction, against the background of his time and community.
Ida has been collecting and photographing mannequins for the past six months. During this process, he came to the conclusion that due to the invention of photography the ideal body that humans have held since the Greek sculpture was lost, and instead of that mannequins represented the ideal body secularly.
This exhibition will consist of sculptures and photographs that combine lost ancient sculptures and iconic mannequins of each era while gently crossing the history of modern mannequins as well as presentation of local industries after the development of the Internet *3. We sincerely hope you could visit the exhibition and see the artworks while paying attention to the new attempt to give a new perspective to imported "sculpture" followed by modernization by Ida, who has been practicing expression through sculpturing after the development of the Internet.