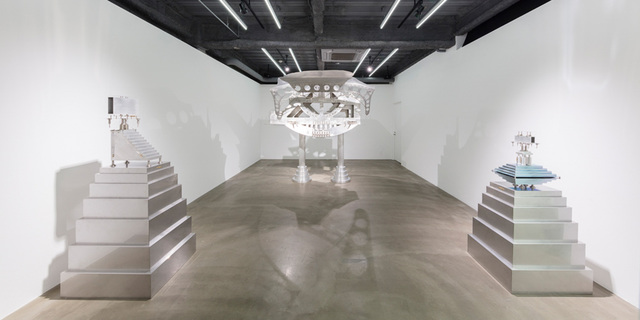 Main Gallery
Tension and Compression
Morio Shinoda
2018.11.16 Fir-2018.12.15 Sat
Morio Shinoda is a Japanese sculptor known for his metal sculptures, in which abstract objects resembling women or structures hang in mid-air from a plurality of wires, which he has been exhibiting since the late 1950s. He was selected for the Japanese pavilion at the 33rd Venice Biennale, held in 1966, and even now at 87 years old he is vigorously active both domestically and abroad.
For about 60 years since his first solo exhibition until now, Shinoda has been presenting a multitude of works with the consistent theme of tension and compression, and his unique sculptural expression, which combines a sense of tension with a sense of floating, has earned high recognition not only in Japan but overseas.
In the book published in 1972, 'Declaration of Pleasure,' a Nantenshi gallery publication, in addition to discussing the 1960's period he spent in America, Shinoda declares the following about his own work:
"My works are viable only in the active acquisition of pleasure, or incomplete abstinence."
It can be said that the at first contrasting elements of pleasure and abstinence are also factors that correspond to 'tension and compression,' the theme of Shinoda's works.
In this exhibition, we will present about 20 pieces ranging from the 1960s extremely valuable works produced in the American period, to recent works, and we hope that it will be a chance to investigate the course and the present location of the sculptor Morio Shinoda, who has developed a unique sculptural expression.
Also, at the same time, we will host a show in the viewing room by Tamara Satoru, a student of Morio Shinoda's from his time at the University of Tsukuba. In this show, we are planning to exhibit the large-scale work 'Point of Contact,' which can be said to be his most important work, and won the grand prize at the 'International Light Art Award 2017' held in Germany.
It will be a valuable opportunity to simultaneously view the shows of both artists, connected as teacher and student, and we invite you to come and see.