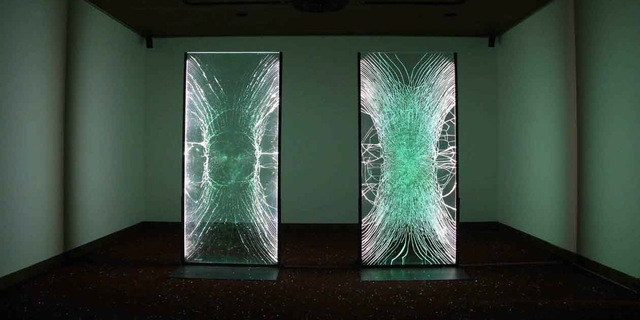 Main Gallery
tear
Tets Ohnari
2016.11.25 Fri-2016.12.24 Sat
TEZUKAYAMA GALLERY is pleased to announce a solo exhibition titled 'Tear', by Tetsu Ohnari.
Ohnari was born in Tokyo in 1980. In 2004, he graduated from Nihon University College of Art and the same year entered the sculpture course at Tokyo University of Arts. In 2005 he received a scholarship from the Czech Republic Ministry of Education, Youth And Sports and he studied at the Academy of Fine Arts in Prague, and the Academy of Arts, Architecture and Design in Prague, for one year respectively.
In 2008, Ohnari completed his master's degree from Tokyo University of Arts. He then returned to the Czech Republic where he lives and works. Ohanri has been energetically exhibiting internationally using various mediums such as glass, stone, and wood to make sculpture and installation work.
Ohnari got an award from VOCA 2012 (an art competition organized by Ueno No Mori Museum for 2D artists under 40) with his work "Manebi No.6". In this work, he recreated the cracks on glass using unique techniques. Two works are exhibited facing each other, one of them has cracks formed naturally, and the other has cracks that have been created by carving. This installation was very highly received.
In 2014, Ohnari had a solo exhibition "Tets Ohnari ∞ Egon Schiele" at Dai-ichi Life Gallery, Tokyo. Ohnari used the motif of Egon Schiele's chair. He created a replica of Egon Schiele's chair which was 100 years old and used during his work and also making another replica formed from the wood chips created in the process of making the first chair replica. In showing the chairs in the same space, he questioned the relationship of their value, the values and medium themselves which are invisible.
The theme he works with is "the phenomenon and relationship of material change that happens when a person comes into physical contact". He also has said that for his method of presenting sculpture, he maintains an awareness of doubling and symmetry. Like "light and shadow", "create and destroy", "subject and object", one pair of concepts and elements can exist in one thing. It seems contradictory at a glance but he believes that all actions and things are originally equal.
In this exhibition, we would like to present his most iconic glass work as an installation with his latest work.