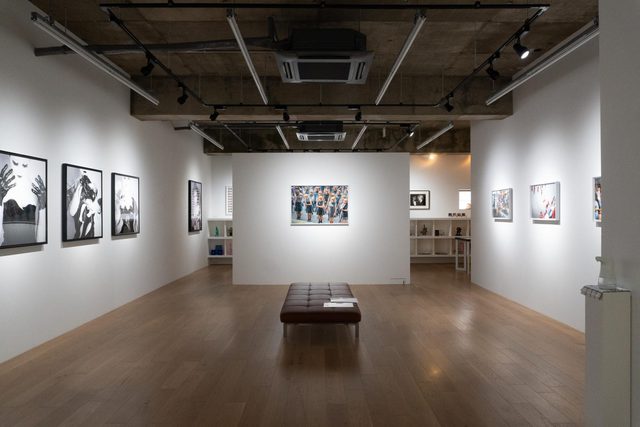 Viewing Room
Photo Exhibition – Hito
Misato Kurimune / Daisuke Takakura / Hirohito Nomoto
2022.03.25 Fri - 2022.04.23 Sat
TEZUKAYAMA GALLERY is pleased to present the photo exhibition, "Hito".
Photography has been always capturing the "time" in its history. Especially humans was always been an object of it. What did the photographers want to express by taking photography of humans? Was it just for the record, or is it more than that? In a sense, that maybe rely on the audience who will stand right in front of the works.
We will exhibit our three representative artist's works and our gallery collections. Kurimune was born in 1988 and she presented the new series that is using the lenticular lens in 2021. She received Sankei Shimbun Award at "Kyoto Art for Tomorrow 2021" with this series. We will exhibit her past works of Kurimune who is always facing towards to works with her critical perspectives with the theme about beauty, existence, time, and life. Daisuke Takakura was born in 1980. He has been presenting his series of "monodramatic" that is themed in monodrama with the background of being an actor, photographer, and designer. He presented a new work of the same series at the Shibuya 2-Chome Art Project that was located in a temporary construction wall at Shibuya. Even with the same series, these works will show the difference each time as it changes with each period. Hirohito Nomoto who was born in 1971 received a prize at New Cosmos of Photography. As an experienced photographer who has received several prizes at international awards, he presented this work with the theme of "yare" which is unused photos in press photography's term and documented behind the scene of press photographers. At this exhibition, we will exhibit the series called "into the silent land" that is capturing the daily scenes or portraits which make the audience feel the parallel world. The works that have documentary photography might impact the audience directly.
From our gallery collection, we will exhibit the works of Nobuyoshi Araki, Christopher Makos, Tomoko Sawada, Nat Finkelstein, Eiko Hosoe. How does the "Hito" they capture are going to react with the audience with the works of Kurimune, Takakura, and Nomoto? Please take these opportunities as well as the solo exhibition "Pathway" by Naosuke Wada.