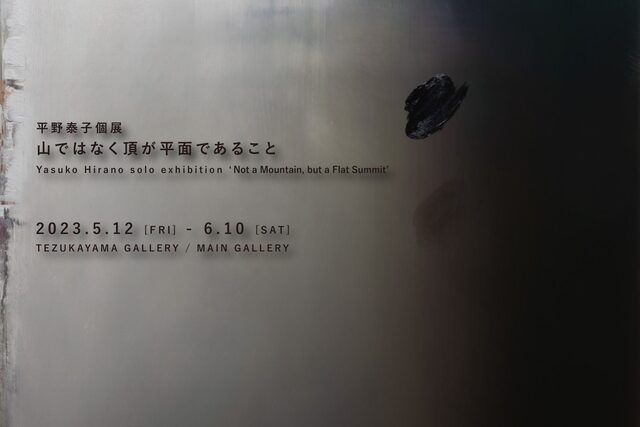 Main Gallery
Not a Mountain, but a Flat Summit.
Yasuko Hirano
2023.5.12 fri - 6.10 sat
TEZUKAYAMA GALLERY is pleased to present the solo exhibition of Yasuko Hirano, "Not a Mountain, but a Flat Summit".
She was born in Toyama Prefecture in 1985 and now lives and works in Kanagawa Prefecture. She has been actively creating and presenting her works since graduating from Kyoto Seika University's Faculty of Art's oil painting course.
Hirano's paintings are made by stretching canvas over wooden panels, which are then primed with animal glue and plaster, carefully polished after drying, and covered in layers of oil paint in three primary colors. Based on her work is "landscape".
By capturing the senses of sight, smell, touch, as well as material and psychological factors, the multilayered artwork that connects the present and the past is completed by Hirano's depiction of the scenery once seen. Hirano's description of a scene she witnessed one day completes a work that connects the present with the past. It is drawn in the sense of "now," as if that time is looking back at us. Through the repetition of the acts of "looking" and "being looked," the works depicted from various perspectives are transformed into complex screen that approach the depths of the world, allowing the viewer to feel the existence of an unnamable phenomenon, while keeping its meaning at a distance.
This is the first solo exhibition by Hirano at Tezukayama Gallery, will feature approximately 15 works.
Her works that evoke a sense of depth that draws you in, please take this opportunity to come and see the exhibition.