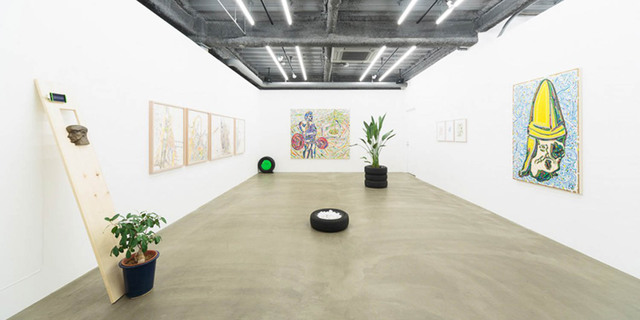 Main Gallery
Neutral Palm Square
Kazuma Koike
2014.3.28 Fri-2014.04.26 Sat
Tezukayama Gallery is pleased to announce our next exhibition 'Neutral Palm Square' by Kazuma Koike from 28th March to 26th April 2014. This will be Koike's first solo exhibition in Osaka.
Koike was born in 1980 in Kanagawa prefecture, Japan. However, he spent his early life in Argentina and Spain because of his parents' career. These life experiences have somewhat affected his thinking and artistic choices. Although his work seems hard to easily comprehend, rather than this, his work stirs our imagination. You might think his creations are from a dream or storybook. To try to read his intention, we need to imagine, and therefore our interest further deepens.
In recent years, Koike has been exhibiting his paintings along with 3d objects and sculptures. He says that he sees the objects and his work equally and arranges them carefully in the space. In doing so, he wants to make invisible connections between all of the work. In this exhibition, Koike aims to emphasize the relation between his paintings and the objects more than before. The tension and connection within the space will stimulate the viewers' imagination.
Artist's memo:
"I travel to a tropical country, and when I've checked into the hotel and left my bags I go out for a walk without a map. The nice breeze is making the coconut trees sway. While I am walking, a park and I see a weightlifter, a poster of a hero, and some object of faith floating by. Suddenly, on the opposite side of the street, I spot a flower in a tree. "Is that flower blooming from this tree, or is it a parasite sucking the life from the tree?" This kind of question is on my mind, but I can't know the answer as I am standing here because this is obscure. I don't go there to check this but return to the hotel instead."