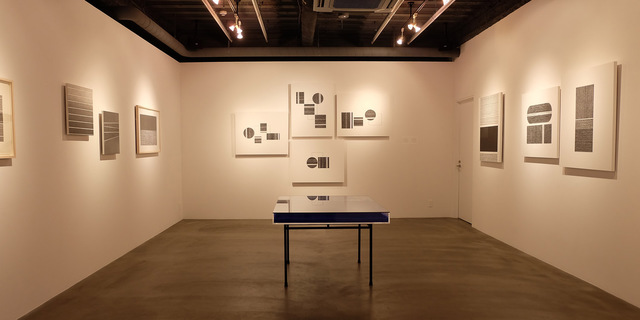 Main Gallery
MONOCHROME LANDSCAPE
Dominique Lutringer
2017.1.20 Fri-2017.2.18 Sat
TEZUKAYAMA GALLERY is pleased to present Dominique Lutringer's second solo exhibition.
Japan-based French artist, Lutringer was born and grew up in France, of a German father and French mother. He developed an interest in Japanese culture from an early age and moved to Japan in 1992. Lutringer has worked with various painting styles but now focuses on minimalist paintings showcasing his unique view of Japanese aesthetics.
In this exhibition, we would like to show the latest delicate drawings that makeup approximately 20 works.
The colors used on the works were toned down compared with the previous exhibition held at TEZUKAYAMA GALLERY in 2014, and are now all monochrome created only with pencil on paper.
This simple medium, colors, and composition may appear subdued but his work has a deep warm expression of nature and of the mundane.
We hope the visitor feels his work demonstrates a well-honed sense of beauty inspired and characterized by Japanese aesthetics, themselves drawn from nature and the simplicity of the mundane.
[Art Critique]
The quiet energy of Dominique Lutringer's recent artworks, composed of lines and geometrical shapes, is characterized by the "restrained use of colors" and simple aesthetics. For years, he has developed numerous painting styles, which has now resulted in simple and meditative images in monochrome and delicate roughness.
While the elements of the paintings are freely composed, the white surfaces and the multiple layers of pencil strokes create rhythm, articulating the tension between these compositional elements.
The artist seeks to perfect the idea of simplicity and to eliminate the unnecessary, to return to the essence of things.
Christian Boucharenc Architect National University of Singapore Associate Professor Head, Division of Industrial Design School of Design and Environment