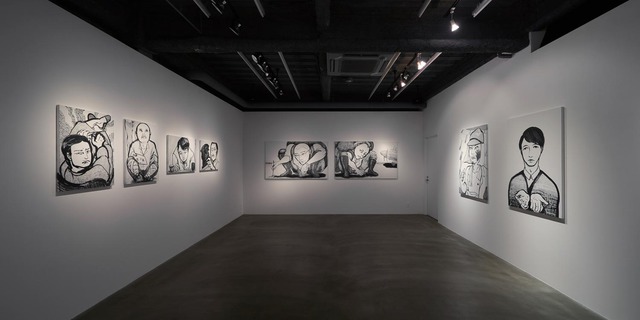 Main Gallery
Kaku-kaku-shika-jika
Yasuka Goto
2015.9.4 Fri-2015.10.3 Sat
Tezukayama Gallery is pleased to present a solo exhibition by Yasuka Goto. "Kaku-kaku-shika-jika" is loosely translated as "such and such", an expression used to replace part of a conversation.
Goto grew up listening to her grandfather and great-uncle tell of their experiences of the war. She is attracted to the strength of the people who survived the struggles
of their time
In recent years Goto has worked with the theme of conflict and focused on the lives of the people who worked in the particular location of her exhibition. She usually chooses strong-willed individuals from a very different generation than herself, but her representations of those figures are always close to her in age, allowing her a more personal connection. Goto usually draws and paints on un-stretched canvas, completely covering the walls with her bold compositions. The strength of these marks and the presence of the work have an undeniable impact.
In 2011, she created "Yukagaki Gensun" for exhibition at the Osaka Namura Shipbuilding Company site. This vast space that had been used as a shipyard was transformed by Goto's 10m two-part canvas. This exhibition, with its sense of scale, that powerfully filled the space of the Namura warehouse, was awarded the "Sakuya Konohana Award", and in the following year, the "Koji
Kinutani Award". In recent years, Goto has been recognized more and more widely and has been attracting attention as one of Japan's important young artists.
This exhibition, which will be her first solo show in three years, focuses on Japanese artists who worked as war artists for the Japanese government during WWII. Goto's approach to painting is vital. At first, she studies the chosen individuals. Not until she feels she has completed her full understanding of the person, their personality and lifestyle, does she feel ready to paint. Only then does she pick up the brush. On the theme of "war painters" of Japan, there have already been exhibitions of the work of these artists, and other younger artists since their time have also worked in this theme. Goto's work, however, using her own unique approach is iconic of her own personal style and expression.
It just so happens that this year is the 70th anniversary of the end of World War II, for which various exhibitions and features have been organized. Goto is drawing on the theme of the suffering of artists during that time, mixed with a little of herself, making it possible to say that this will be in some ways, a self-portrait. We will show a selection of paintings and drawings from the artist. We look forward to your visit!