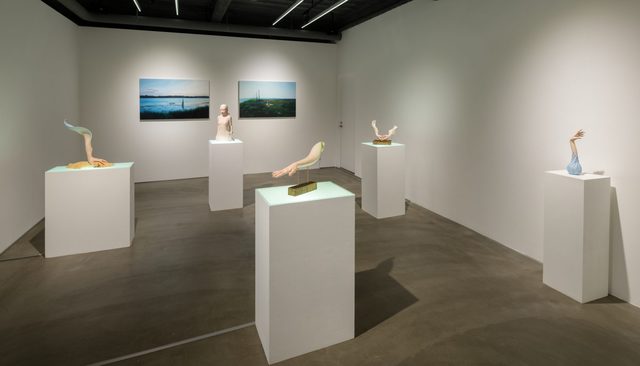 Main Gallery
From the Boundary
Hiroko Uehara
2021.05.21 Fri - 2021.06.19 Sat
TEZUKAYAMA GALLERY / MAIN GALLERY is pleased to hold an exhibition 'From the Border' by Hiroko Uehara.
In 1985, Uehara born in Gunma prefecture and finished a master's degree at Kyoto City University of Arts. She is currently working
in Kyoto.
After she finished her master's degree, she has been working on paintings which she kept continued since she was in college and she is also working actively on sculptures at the same time. Uehara used her cultivation of descriptive power on paintings, creating skillful sculptures, under a theme of combine plants and humans which she was inspired an idea of Japanese animism, which is the belief that natural objects have souls and gods. The face expression of creatures which she uses as motifs are calm and audience can sense divine or gentle and strong vitality from the skin which are very sensitive and soft.
In 2016, she had a solo exhibition at Aki Gallery in Taipei as a first solo show out side of Japan. She transformed the whole three floors into her world. This exhibition received high reputation. In 2018, she had a solo exhibition "Deep Forest" at TEZUKAYAMA GALLERY and she left her own world at the exhibit strongly.
In this exhibition, we will exhibit new paintings and sculptures which inspired by "Todowara" that is a heterogeneous place in Notsuke peninsula in Hokkaido. Audience will see her mysterious world with own eyes.
Please take this opportunity to see Uehara's works.
[Artist's statement]
There is an odd place called Notsuke peninsula in East side of Hokkaido. This is a 26km long narrow sand bank that curves towards to the sea of Ohotsk. In between the body of water which can see the Kunashiri island there is a road which going through this peninsula. I went to this place 4 years ago because I wanted to see the Todowara which placed at the end of this peninsula. Dead Todo fir are being left at this huge swamp and making this odd scenery in Todowara which sometimes called "the end of the world". It changed a lot from what I saw in pictures and this peninsula is being weathered now and it only has few dead Todo firs however, it sticked in my mind strongly.
I may never forget about this afternoon that I was in between extensive sky and ocean and a little bit of land.
Because I could not travel that I like to do last year due to COVID-19 crisis, I often think about the time which I traveled. And it motivated me to conceptualize my feeling about Todowara and spectacle of it.
I have decided to paint after a long time. When I am writing this, those paintings are not finished yet. All of the works that will be exhibited are not going to be related to Todowara thus, I would like to conceptualize that lights, winds, and spectacle which I saw on that day.
Hiroko Uehara