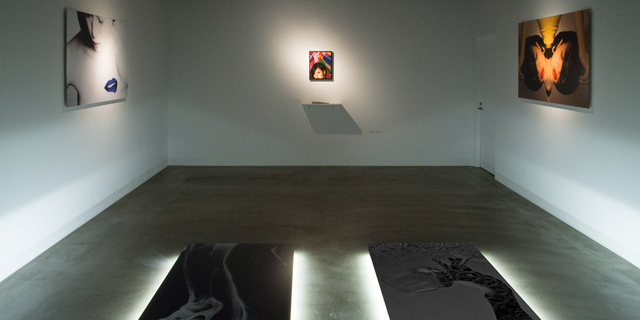 Main Gallery
From the Extreme of Subcutaneous to the Return to Reason
Misato Kurimune
2016.10.7 Fri-2016.10.29 Sat
Tezukayama Gallery is pleased to present "From the Extreme of Subcutaneous to the Return to Reason", a solo exhibition by Misato Kurimune.
Born in 1988, Misato Kurimune established her unique concept and style whilst studying at the Kyoto Seika University, she is now based in her hometown of Kobe where continues to work.
Kurimune has been creating works based on black and white photographs, printed on fabric and then painted over with cosmetics or silver powder, techniques perfected during her days as a print-making student at university. The base is questions of all existence and beauty, intimate of life and time.
Recently, she has tried to use other mediums such as glass but continues to use photograph techniques with a broad perspective. In 2014, at ART OSAKA, she set a hotel room as an installation work under the concept of a bride's waiting room for her wedding. Always eager to try different approaches to her work, Kurimune is on a constant search to broaden her horizons.
This exhibition will be the first in the gallery for three years. Kurimune has focused on herself as a 27-year-old Japanese woman, making a bold attempt to use all her self-portrait work for this exhibition. Kurimune has approached her work as a universal theme, however, it can be seen as antipodes to artworks that are based on the artist's own mind and philosophy.
This has brought Kurimune to finally face herself.
The title of the exhibition is inspired by the 1923 film "The Return to the reason" by Man Ray(1890-1976). Oneself mental image is "The Extreme of Subcutaneous" as it cannot be visible to others, for this, a turn to art made visibly, a homage to the surrealism that Kurimune decided to name "The Extreme of Subcutaneous to The Return to Reason"
We hope you enjoy seeing Kurimune's new facet as an artist but also as a person.