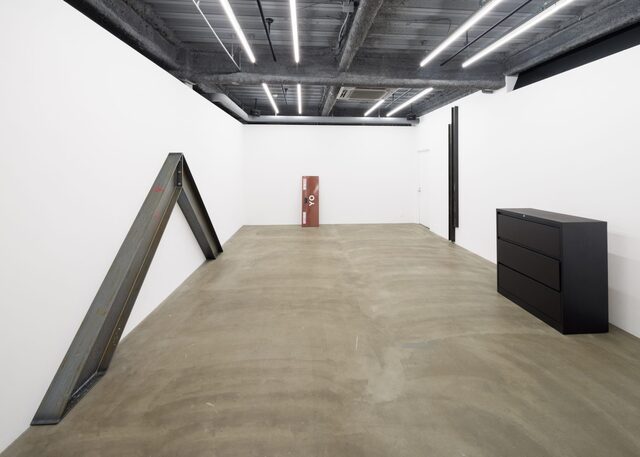 Main Gallery
Echoes from Oblivion
Kaz Oshiro
2023.01.27 Fri - 2023.02.25 Sat
TEZUKAYAMA GALLERY is pleased to present "Echoes from Oblivion," a solo exhibition by Los Angeles-based Japanese artist Kaz Oshiro. Kaz Oshiro was born in Okinawa Prefecture in 1967. He moved to the United States in 1986 and received a Bachelor of Arts degree and a Master of Fine Arts degree from California State University in 1998 and 2002. While referencing pop art, minimalism, and abstract expressionism, Oshiro's work develops these ideas in his own way, and is based on various dichotomy such as three-dimensional and two-dimensional, abstract and figurative, reality and illusion. He stand and search for the essence of the work.
The garbage cans, amplifiers, cabinets, suitcases, etc. that are synonymous with Oshiro are elaborately and faithfully reproduced. However, the moment I learned that all of these works were painted on canvas, my perspective changed. The audience may feel as if the canvas attached to the wooden frame is proof that it is a work of art. In addition, the "Still Life" series, which consists of mostly monochromatic works, may also wander between three-dimensional works and two-dimensional works because the canvas itself, which is the support, is irregularly deformed and wrinkled. gives the viewer an impression of In this way, Kaz Oshiro's works sway between two opposing elements, inducing a number of "why?"
In 2020, he has done his first solo exhibition in Japan in 12 years, "Republic," at MAKI Gallery in Tennoz, Tokyo. For the title of the solo exhibition, he quoted the ancient Greek philosopher Plato's book The Republic. In his book, he mentions Plato's unique theory of The Republic, as well as his theory of ideas such as the essence of things, true goodness and beauty. On how superficially we see things, Plato said, "A prisoner in a cave sees nothing but shadow pictures in the cave, and that is the reality." He will explain using the metaphor of "If you enter thinking that it is." Through this solo exhibition, we will present the fact that artists and those of us who see their works alike have an essence that cannot be easily approached without being aware of it. He presented a fundamental question to the viewer. At the "International Art Festival Aichi 2022-STILL ALIVE-" held in 2022, he exhibited his one of the most representative work "Orange Speaker Cabinets and Gray Scale Boxes (2009)" and he is an artist who is attracting attention in Japan as well. 
This exhibition "Echoes from Oblivion" will be the first solo exhibition at TEZUKAYAMA GALLERY, and it will also be a valuable opportunity for Kaz Oshiro to present his work for the first time in Osaka. Using both the MAIN GALLERY and VIEIWING ROOM spaces, the gallery's collection "Orange Speaker Cabinets and Gray Scale Boxes (2009)" was unveiled for the first time in Kansai. Representative works such as the "Steel Beam" series also will be exhibited. Please take this opportunity to have a look.