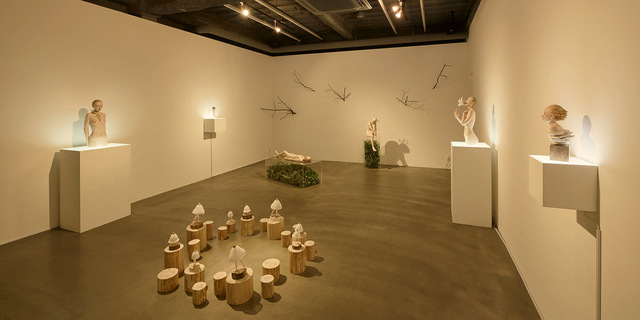 Main Gallery
Deep Forest
Hiroko Uehara
2018.1.20 Sat-2018.2.17 Sat
TEZUKAYAMA GALLERY is pleased to present Hiroko Uehara's solo exhibition–"Deep Forest".
Uehara was born in 1985 in Gunma Prefecture. After receiving her master's degree from the Kyoto City University of Arts, she continued to reside and work in the old capital. During her studies, Uehara worked mainly as a painter. She then later moved on to sculptures in order to broaden her artistic horizons.
The artist creates her sculptures inspired by Japanese animism with a combination of plants and humans. By utilizing her skill of painting in detail, which was acquired through her early career, her creations are brought to life. Their realistically soft, sensitive skin; combined with gentle expressions are the results of some unique mystical creatures emitting divine, pure, and vital energy.
In 2015, Uehara held a solo exhibition at Art Osaka, where one of her most exciting works "Kimi No Miru Yume" was showcased. The work constituted of two female figures laid down on their sides, facing each other in opposite directions, on a bed of flower petals as if they were asleep. Her next solo exhibition the follow- ing year was her first-ever outside of Japan. Titled "Deep Forest", it took place at Aki Gallery in Taipei. All three floors of the gallery were placed with sculptures, lined with moss and bushes, creating the fantastic world of the artist's imagination. The exhibition was exceptionally well received.
The coming exhibition at TEZUKAYAMA GALLERY will be a reconstructed version of Deep Forest prior, with new works to the addition. Visitors of the show would be able to imagine in their own way the mysterious life of Uehara's creatures.