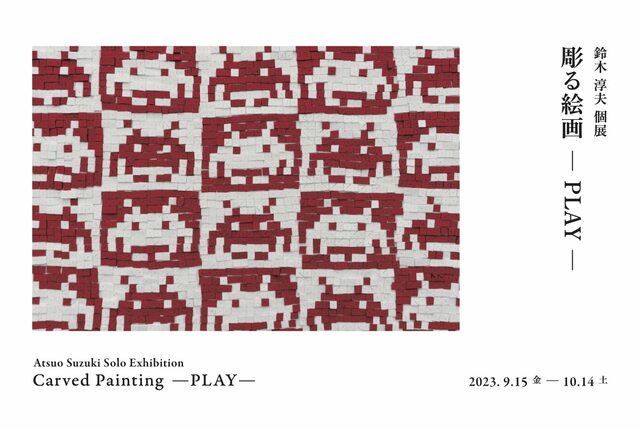 Viewing Room
Carved Painting -PLAY-
Atsuo Suzuki
2023.9.15 Fri - 10.14 Sat
TEZUKAYAMA GALLERY is pleased to announce Atsuo Suzuki's solo exhibition "Carved Painting – PLAY – " from 15th of September. Suzuki was born in Aichi Prefecture in 1977 and completed his master's in education at Shizuoka University in 2001. He is currently based in Toyohashi City, which is his hometown.
He refers to his work as 'Carved Painting' and has been creating various patterns by carving out layers of paint on a panel with a carving knife. The artist's work resembled lacquer carving, yet the images created by Suzuki are so clear that even the artist's breath can be felt. At the same time, the fault lines in the paint, which are revealed by the repetitive act of 'carving', tell the story of the enormous amount of time the artist has spent facing his work.
The exhibition in 2019, was composted in the three primary colours as red, blue, and yellow. And in 2021, only monochrome works were shown.
 The upcoming exhibition's theme is "PLAY," as the subtitle suggests. The impression of "serious adult play" is created by the artist's ongoing search for fresh methods and ways to play while still using the techniques he used in the past. In this exhibition, you can fully enjoy the "PLAY" of Atsuo Suzuki, where the treatment of supports and painting materials has changed drastically, and the works are lined up with vivid colours and a formidable aura. Please take this opportunity to experience it for yourself.
[Artist Statement]
Two years ago, I was walking through the streets of Osaka when a red-and-white Invader sign caught my eye. After the exhibition of three primary colours (2019) and monochrome (2021), I decided on PLAY as the theme for this solo exhibition.
As I have invented and continued to develop the technique of 'carved painting', I have always been stuck in a rut of 'repetition'. I think it is important to "play" as a way of breaking out of a run.
Even though I decided to play, it was challenging to actually play.
Trying this and that support, painting thickly, using rollers and brushes that have finished colouring, etc.
Since last year, I have been focusing on my painting career and spending a lot of time in my studio. Until then, I was mostly interested in carving as many traces of myself as I could, but lately, trial and error seems to have more time to spend.
Some of the works are only for this exhibition, but I believe I will be able to continue making others in the future. Please take this opportunity to find out whether I have been able to play or not.