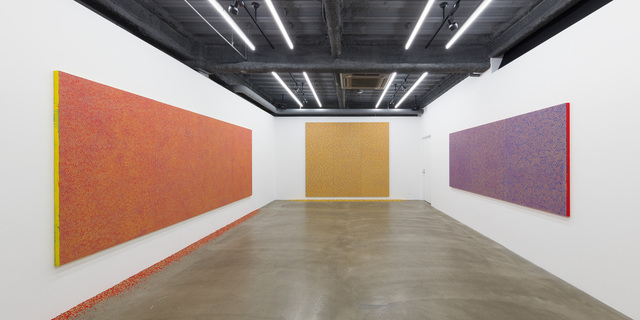 Main Gallery
Carved Painting -three primary color-
Atsuo Suzuki
2019.9.13 Fri-2019.10.12 Sat
Atsuo Suzuki's solo exhibition "Carved Painting -three primary colors-" will be held at Tezukayama Gallery from September 13 onwards.
Suzuki, born in Aichi Prefecture in 1977, completed his studies in 2001 from the Graduate School of Education, Shizuoka University. Currently, he is an active artist based in his hometown of Toyohashi City, Aichi Prefecture. He calls his own works "Carved Painting", and by carving out with a carving knife the multiple pigment layers painted repeatedly on the panels, he produced many works with an art style that paints various design patterns. The production method is similar to carved lacquer in terms of techniques, but the surface of the paintings created by Suzuki offers to the viewers vivid traces of an artist's conduct to an extent where one can even feel the artist's breath. And, at the same time, the fault lines on the pigments that manifested through the repeated act of "carving" tell a story about the enormous amount of time the artist had spent confronting the works.
This exhibition, the first solo exhibition in Tezukayama Gallery, is a collaborative exhibition with Ain Soph Dispatch, a gallery in Nagoya, and works of the same artist will be published at both venues. Although the base color scheme of works at both venues will be limited to the three colors red, blue, and yellow, they will be exhibiting at each venue group of works finished with completely different impressions through switching to different varieties of carving knives for the production. More- over, we are also planning to exhibit 3D works and flat, small works created from pigment fragments carved from the surface of the actual works.
We sincerely hope you would be so kind as to honor us with your perusal to both venues for this occasion.