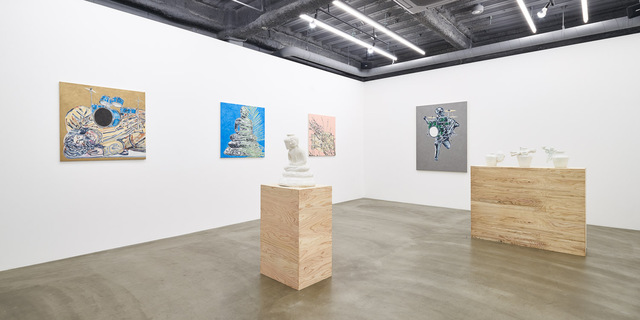 Main Gallery
Buddha Blues
Kazuma Koike
2017.04.07 Fri-2017.04.28 Sat
TEZUKAYAMA GALLERY is pleased to present "Buddha Blues" a solo exhibition by Kazuma Koike.
Koike was born in 1980 in the Kanagawa prefecture in Japan, moved at a young age to Buenos Aires where he lived from 1986 to 1995, he then spent time in Barcelona from 1995 to 1998. He returned to Japan in order to attend university and in 2003 graduated from the Nihon University College of Art. Kazuma Koike currently lives and works in Osaka.
Until now Koike has drawn inspiration from motifs from his everyday life and also myths. Since 2015, he has used limited motifs for his paintings anything from old idols and plants, pots, or even drum sets. These are usually presented as a single color background. By super-imposing these motifs with clever compositions, the works have a unique sense of "quietness" and "floatingness" like a mixture of multiple timelines.
In this exhibition, we will present his latest paintings and also ceramic sculptures, which he started working on recently. Koike says he is interested in *"Shinbutsu Syu-go", a Japanese philosophy that strives to attain "the state where different elements coexist in harmony" or "the processing that changes the purpose and meaning of things". Koike's work might show us that value and meaning are not robust, however, acknowledgment is always dependent on different viewpoints and time changes.