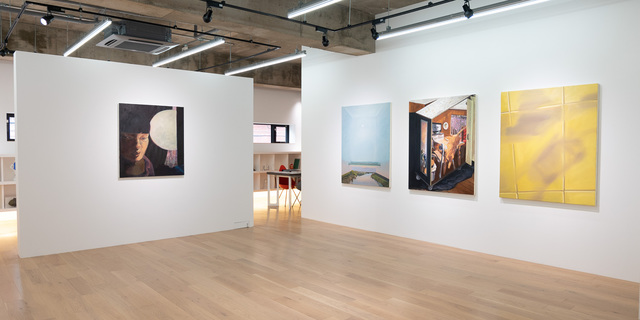 Viewing Room
Ashamed Painting
Tomoko Atsuchi
2020.04.03 Fri-2020.4.25 Sat
We will be holding Tomoko Atsuchi's solo exhibition, titled "Ashamed Painting", at TEZUKAYAMA GALLERY.
Atsuchi has been actively involved in a number of activities, including solo gallery exhibitions in the Kanto region and participation in group exhibitions at the National Museum of Art, Osaka (Garden of painting: Japanese art of the 00s / 2010) and the Tokyo Opera City Art Gallery ("The Way of Painting / 2014), and her artworks were presented at Rokko Meets Art 2018.
Her artworks express the space that it spreads in front of the eyes by replacing it with painting; these spaces cannot be grasped through only simple and clear thinking methods such as perspective. Multiple viewpoints and light sources exist in the pictures in a mixture, and they are depicted as a world that resembles a single "wall" that stands and compresses time and memory.
This is the first time she will be holding an exhibition at the TEZUKAYAMA GALLERY since the group exhibition Patching (and Darning) held at the viewing room last January, and this is her first solo exhibition in Osaka. We look forward to your visit.
"Ashamed Painting" (artist statement)
There's something I'm conscious of whenever I paint.
That is, it is a picture. What I'm painting now is a picture.
I think of treasuring this simple idea.
The motifs of the paintings are scenes I see in my daily life or while traveling, photos I take without much thinking, memories, feelings, thoughts, etc.
They are things that exist inside and outside of me. I feel embarrassed that the paintings start and end with me.
But paintings are pictures. And a picture is very difficult. There's too much to it.
I am determined to face this solo exhibition head-on without escaping from the embarrassment, or should I say, from painting it.
Tomoko Atsuchi