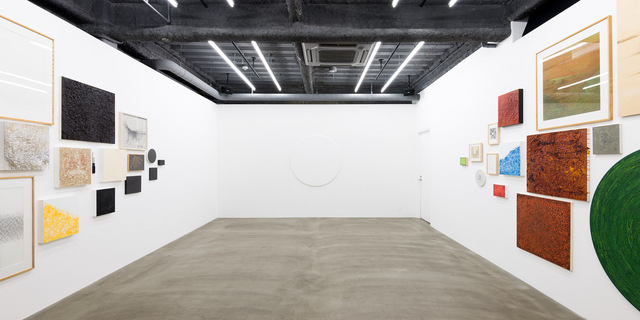 Main Gallery
39/40
Yuki Tsukiyama
2016.7.1 Fri-2016.7.30 Sat
From July 1-30 we will hold a solo exhibition of Yuuki Tsukiyama titled "39/40".
For this, Tsukiyama's second solo exhibition at Tezukayama Gallery, we will show both previously exhibited work and brand-new work.
Tsukiyama was born in 1976 in Kobe, and after studying sculpture at Kyoto University of Art and Design, has since been active as an artist based in a studio in Kobe.
One of the main features of Tsukiyama's work is the wide diversity of materials he creates his work with. Utilizing materials such as wood, metal, resin, and paint Tsukiyama constantly reveals the possibilities and embodiment of each material, in the process of repeatedly overlaying trial and error, he continues to work while capturing the characteristics of the chosen material.
In Tsukiyama's more recent works, it is not only the material object that forms the work, but also space itself, which is exhibited and regarded as an element in its own right.
For the 2013 edition of the hotel art fair ART OSAKA, one of the rooms of the Hotel Granvia was modified by Tsukiyama. The focal point of the room is a painting of a male hotel staff bowing, and around him, objects such as the bed, clocks, furniture, all mirroring the bow of the staff, tilted at the same 15 degrees angle.
For a solo exhibition at Galerie Ashiya Schule in 2015, and taking advantage of the shapes born naturally in wood, Tsukiyama stitched together 406 timber planks, surrounding the gallery space, bringing the work and space together in an installation. If it was not for Tuskiyama's humorous point of view and his tenacity, his work would not be realized.
After completion of this solo exhibition, Tsukiyama will participate in a residence program in Dubai for three months, displaying how his range of activities as an artist turning 40 has further grown.
Tsukiyama's attitude to his own production is "taking advantage of the characteristics of the material itself, through [his] own hands. How interesting and exciting it is to finish with an object." The fun and richness of being creative can be felt through the work.
We look forward to your encounter with Tsukiyama's work on this occasion.
【ARTIST'S STATEMENT】
"When I find something funny, in order to show people immediately, in my case, the technique and tools for
each material becomes important, and also the base of 'beautiful work'.
Without this basic foundation, which I continue to learn as much now as when I was a teenager, I can not
limitlessly play with materials. When I write this in a sentence it seems a little rigid, but actually, it is not.
Free-thinking, flexible expression, not forgetting the humor, not lying to yourself! What will the future hold for Tsukiyama's work? I am very much looking forward to seeing you. This is my last exhibition of new work in my 30's."