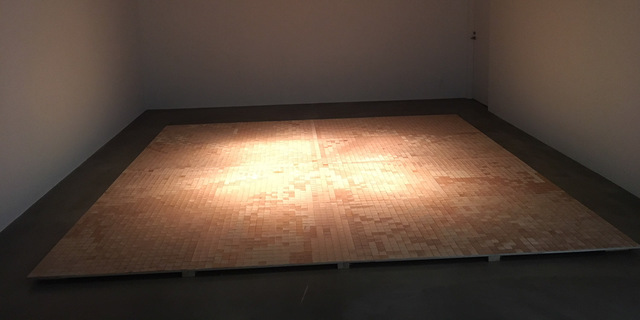 Main Gallery
Yuki Tsukiyama Exhibition 2018
Yuki Tsukiyama
2018.7.6 Fri-2018.8.4 Sat
TEZUKAYAMA GALLERY is pleased to announce 'Exhibition 2018,' a solo exhibition by Kobe-based sculptor Tsukiyama Yuki.
Born in 1976, Tsukiyama graduated in 2000 from the sculpture department of Kyoto University of Art and Design and is now based in his native Kobe, working enthusiastically as a sculptor around Kansai.
Although Tsukiyama deals with such varied materials as metal, resin, wood, and paint, the starting point of his works is always the materials themselves. By repeated experiments which he calls 'having fun,' he grasps the materials' inherent characteristics, and this approach can be seen integrated into Tsukiyama's practice as one part of his work's theme. Moreover, while the elements composing them are simple, Tsukiyama presents a great number of works that seemingly could not be realized without his own personal point of view and tenacity to perform repetitive acts to the point of stoicism.
In the exhibition, Tsukiyama cuts 45mm squared timber finely with a hand saw, and then arranges the pieces with great care to join the woodgrains of the resulting cross-sections, forming a circle in the gallery space that makes one think of the rings of a great tree.
Because of the thousands of pieces, the arranged circular shape tells of the accumulation of Tsukiyama's patiently repeated acts in his studio, while simultaneously letting us experience a great flow of time that exceeds human understanding.