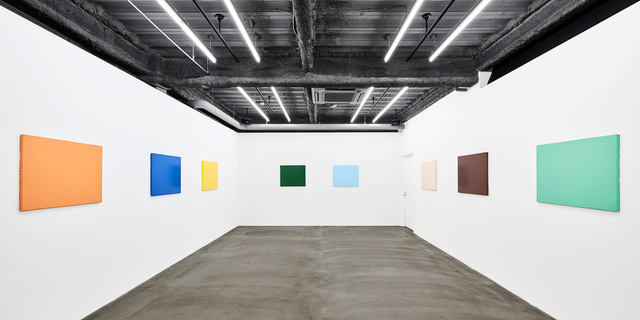 Main Gallery
Yuki Tsukiyama Exhibition 2017
Yuki Tsukiyama
2017.06.30 Fri-2017.07.29 Sat
A solo show by Yuki Tsukiyama in TEZUKAYAMA GALLERY, "Exhibition 2017"
Yuki Tsukiyama was born in Kobe City in 1976. He graduated from the Kyoto University of Arts and is now operating in his atelier in Kobe. After holding his own exhibition in TEZUKAYAMA GALLERY last year, he himself for the first time, participated in an artist-in-residence abroad in Dubai. In his three months there, he had created "Roundabout"– a collage that refers to a circular intersection without signal lights, often found in Europe or the Middle East. Propped on support over four meters high, the massive collage is composed of cut-outs of Arabic text extracted from local newspapers and magazines. Moreover, this March in New York, the artist had held his first solo show abroad in the art fair known as "VOLTA NY". This was where his installation was composed of a number of circular paintings, representing the image of space. It had caught much attention from visitors of the fair.
Tsukiyama always begins his work with materials that interest him. He emphasizes 'having fun' by playing with various kinds of materials, capturing the characteristics and the essence of it to exploit and maximize its potential.
In this exhibition, the artist painted wood panels in more than ten layers with monochromatic colors creating a tableau which he calls "Paint It Flood". The artist believes that collecting many layers of energetic strokes on the surface has a unique depth and appearance, despite the fact that it is a simple process on a simple material.