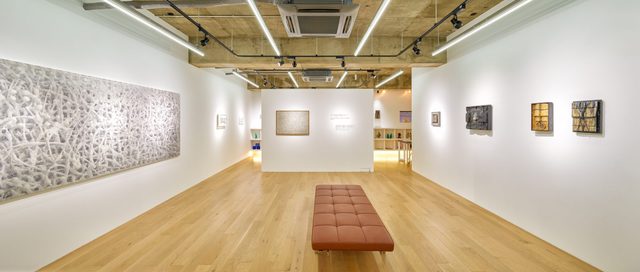 Viewing Room
The Proof of Painting Ⅲ -Tokai verison-
Yae Asano / Seiji Kunishima / Atsuo Suzuki / Junji Yamada
2021.09.17 Fri - 2021.10.16 Sat
In 2003 and 2004, there were group exhibitions called "The Proof of Painting" that were curated by Gallery Yamaguchi kunst-bau to search for the possibilities of paintings as contemporary art. 
After 17 years later, we would like to introduce Yae Asano, Seiji Kunishima, Atsuo Suzuki, and Junji Yamada as an experiment to look for the essence of the art=proof. We will introduce these four artists who are based in the Tokai area. 
Yae Asano
Asano was born in Suzuka city in 1914. He was sent for Manchuria in 1932 as a career soldier. After he came back, he studied paintings by himself and became a full-time painter in 1959. After his death in 1996, there are still many of his exhibitions are being held everywhere. He practiced his unique "scratching" method and created his unique lyrical world.
Seiji Kunishima
Kunishima was born in Nagoya city in 1937. He spends 20 years in Los Angels as an artist and creating his works in the mountains in Okazaki city now. He is presenting his works at Sakura Gallery and Nobu Gallery and he is also exhibiting in various galleries.
Atsuo Suzuki
Suzuki was born in Aichi Prefecture in 1977, completed his studies in 2001 at the Graduate School of Education, Shizuoka University. Currently, he is an active artist based in his hometown of Toyohashi City, Aichi Prefecture. He calls his own works "Carved Painting", and by carving out with a carving knife the multiple pigment layers painted repeatedly on the panels, he produced many works with an art style that paints various design patterns. The production method is similar to carved lacquer in terms of techniques, but the surface of the paintings created by Suzuki offers to the viewers vivid traces of an artist's conduct to an extent where one can even feel the artist's breath. And, at the same time, the fault lines on the pigments that manifested through the repeated act of "carving" tell a story about the enormous amount of time the artist had spent confronting the works.
Junji Yamada
Yamada was born in Nagano prefecture in 1974. Using masterpieces of art history as motifs and study the spatial structure of paintings and make a sculpture. Take photographs of it and layering the drawing by using etching. This unique method called "Intaglio on photo" is questioning what is the painting by co-existing the two different kinds of elements like three and two-dimension, reality and fiction together. His unique world of artworks that has elements of stoic and pop are very popular and have many fans. He also creates Nagoya city Art Museum's calendar or hosts one seminar of practical courses and artist's talks for social activities.