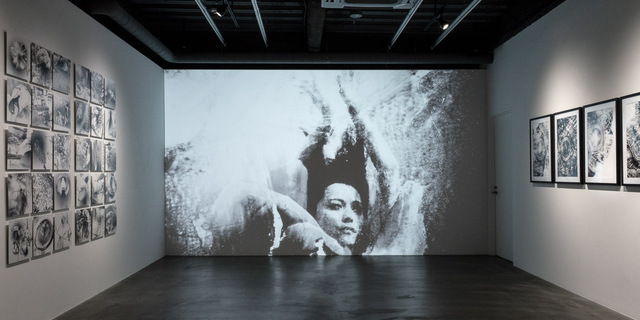 Main Gallery
 Still Remained
Misato Kurimune
2018.9.14 Fri-2018.10.13 Sat
TEZUKAYAMA GALLERY is pleased to announce a solo exhibition "Still Remained" by
Misato Kurimune.
Born in 1988, Kurimune studied printmaking at Kyoto Seika University and graduate school and is currently based in her native Kobe.
Kurimune has begun working with a stronger awareness as an artist than while attending university. Through a mixed-media technique of applying drawings to a base medium of her photographs, Kurimune consistently asks questions of the essence of things such as beauty, existence, time, and life. In her 2016 solo exhibition, she aimed these concerns at 'her 27-year-old self,' and arranged all the works as a self-portrait to express the essences hidden within humanity from a different angle.
Although based on photography, she presents her works from multiple viewpoints as exhibitions of installations. In addition to presenting her works in galleries and at overseas art fairs, in recent years she has started broadening her practice by undertaking projects in places like showrooms and restaurants.
In, her third exhibition, she presents over sixty artworks focusing on the modern culture of information overload stemming from things such as SNS, with the pursuit of beauty and the essence of art as a theme. The exhibited work 'Memorise' is Kurimune's first video work.
We present this in addition to the simultaneous opening of Slovakian artist Lucia Tallova's exhibition in the Viewing Room.
Exhibition Concept
The theme of this exhibition is reconsidering the essence of perception that relies on vision, and how to make/view art.
By disrupting ephemeral images/information transmitted via the media and reconstructing them as art pieces, I point out the agility of media such as SNS, and the inertia of modern people accepting the information as it is without ascertaining its quality or authenticity.
How useful are art and exhibitions as a means for exploring the hooks of perception and memory, and as a means for reconsidering them?
In modern times you can easily have a pseudo-experience of exhibitions through a screen. While considering such things, I would like to provide works and exhibitions that 'still remain' in the memories of the viewers.