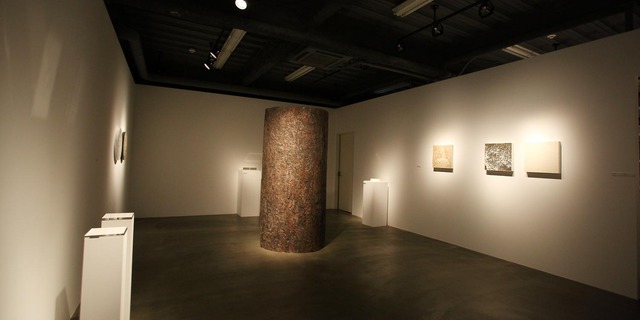 Main Gallery
Shining wizard
Yuki Tsukiyama
2012.9.7 Fri-2019.10.6 Sat
In recent years many sculptors chose appropriate materials in order to create artworks that embody their own image. However, Kobe-based sculptor Yuuki Tsukiyama uses a different approach.
He finds it interesting to choose materials with difficult characteristics and enjoys taking advantage of these, they attract and excite him.
For Tsukiyama creating artworks he is wrestling with it, talking with it, and facing with it squarely.
His attitude demonstrates not only someone making a sculpture but someone who was born to be a sculptor.
It might be said that his works are too simple, but they are the product of his blood, sweat, and tears. His range of works is varied, he could found chiseling a massive log into something only a few centimeters long, painting a huge board with only a pencil, in other time he created a group of works which were simply just painted and polished repeating like endless.
Nowadays, it seems like the concept is the most important aspect in the art movement and simple readymade is used in many works. This does not apply to Tsukiyama, therefore Tezukayama Gallery is pleased to present a first-time solo exhibition by Yuki Tsukiyama.
Tsukiyama chose to call it "SHINING WIZARD", after a professional wrestler special attack.
The title represents Tsukiyama's approach to his work almost like an athlete, he uses his full body to create artworks, and literally, the materials are by him almost like magic. We hope you can feel his massive attack.
Artist's statement 
"I found "awareness" from drawing and creating on a daily basis.
By using different techniques is capable of finding new characteristics of materials available.
The techniques used can vary from melting, drying, or even dropping.
My works borrow a bit of earth's magic power of such as, time, space, gravity, and also climate"
By Yuki Tsukiyama