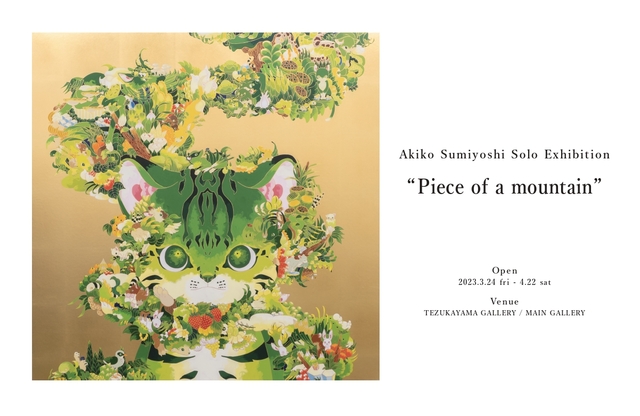 Main Gallery
Piece of a mountain
Akiko Sumiyoshi
2023.03.24 Fri - 2023.04.22 Sat
TEZUKAYAMA GALLERY is pleased to present the solo exhibition 'Piece of a mountain' by Akiko Sumiyoshi.
Sumiyoshi was born in Chiba Prefecture in 1981 and graduated from Bunsei University of Arts and started her career as an artist in 2005. She has been actively creating and presenting her work since then. She has created forest scenes in which lovable animals live with a consistent world view using paintings, sculptures, and installations. Sumiyoshi's stoic attitude toward her work can be seen behind the process of creating animals with soft and adorable expressions. She is able to create new creatures brimming with vitality because she studies the habits and physiques of animals from various sources and illustrated books.
This is her first TEZUKAYAMA GALELRY exhibition in three years, and she will be showing mainly paintings in the Main Gallery. The works, created by dividing a large painting into smaller sections, show Sumiyoshi's perspective on life, which includes flowers and plants that bloom casually alongside small animals. In an environment of rapidly changing fashions and trends, Sumiyoshi's exhibition offers a sense of calm and healing, in an environment of rapidly changing fashions and trends, as she maintains her unwavering stance and gathers even the smallest details.