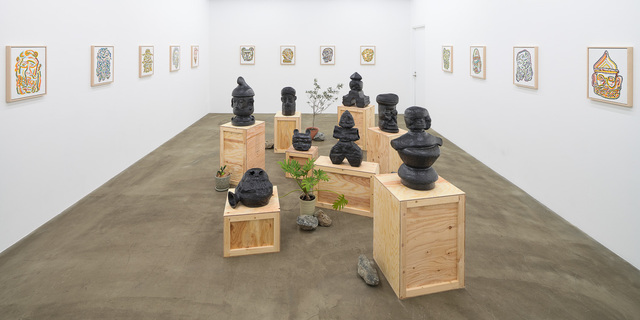 Main Gallery
Kazuma Koike Solo Exhibition
Kazuma Koike
2020.1.24Fri-2020.2.22Sat
TEZUKAYAMA GALLERY will hold a solo exhibition of Kazuma Koike. He was born in 1980 and currently lives in Osaka. He spent his childhood in Buenos Aires, Argentina, and attended a high school in Barcelona, ​​Spain. He graduated from Nihon University College of Art in 2003 with a major in sculpture. In 2012, he moved from Kanto region to Kansai region.
In recent years, Koike has produced ceramic sculptures, watercolor drawings, and paintings with motifs of ancient gods and plants. With the theme of "fictional ancient artifacts", artworks created by mixing images of relics from different places/periods have a unique floating feeling as if they do not belong anywhere. Koike says that the image of the plant used in the work is a study of "a form beyond human creation".
In a solo exhibition at AISHONANZUKA (Hong Kong) in 2019, he presented an installation that skillfully incorporated plants and daily necessities together with ceramic sculpture and watercolor drawing. The ceramic sculpture was sold out before the first day of the exhibition and gained high support from discerning art collectors mainly in Asia.
This is the first exhibition in TEZUKAYAMA GALLERY held for about three years. In addition to the painting series depicting the new "Idol Portrait" with characteristic irregularities (textures), we would like to present about 40 works such as ceramic sculptures and watercolor drawings.