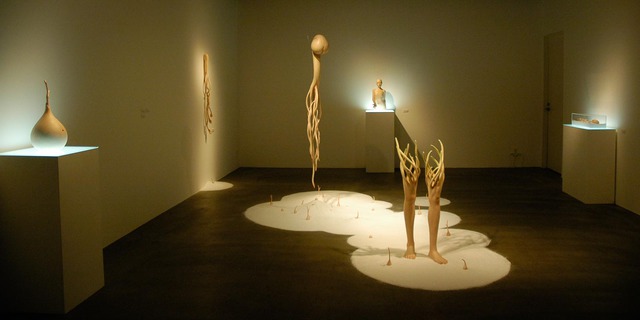 Main Gallery
Heartbeat
Hiroko Uehara
2012.11.23 Fri-2012.12.22 Sat
TEZUKAYAMA GALLERY is pleased to announce "Heartsbeat" by Hiroko Uehara, the last exhibition this year, also part of the OAC (Osaka Art Complex)Vlo.5.
Uehara was born in 1985 and completed a master's course at the Kyoto City University of Arts this year. At university she mainly created paintings but recently she has been focusing on sculptures in order to find more possibilities on how to express herself. Her sculptures take advantage of the careful observant and descriptive power used in her painting. 
For example, she expresses very well her creatures' realistic soft skin on which one can almost see their blood vessels, this gentle facial expression became the signature of Uehara's style. Her works have been introduced all over the world and are highly reputed. 
Most of her works combine plants and humans, making us imagine various scenes. Some might imagine the image of a plant's proliferation eroding and eradicating humans. Or some might imagine the happiness of the birth of a new organism and their coexistence. This confliction of images in her artwork depends on the viewers, it might. perhaps be a reflection of ourselves. 
In this exhibition, we would like to exhibit her works entirely at the gallery space so that it can express her concept and sense of Uehara's creations. 
We hope you will absorb the atmosphere and enjoy the exhibition. 
Artist's statement 
For example,
The hand is stretching for somebody,
The leaves and branches are stretching for the sun 
Relationships spread like a spider web on each encounter 
The variety of forest plants rooted on earth spread like a net 
Humans and plants live on the same planet, changing, rotting, and moving on to the next generation 
These are common points of my perspective, I combine them and creat 
Both are very close to me, sweet, and also mysterious creatures
Hiroko Uehara