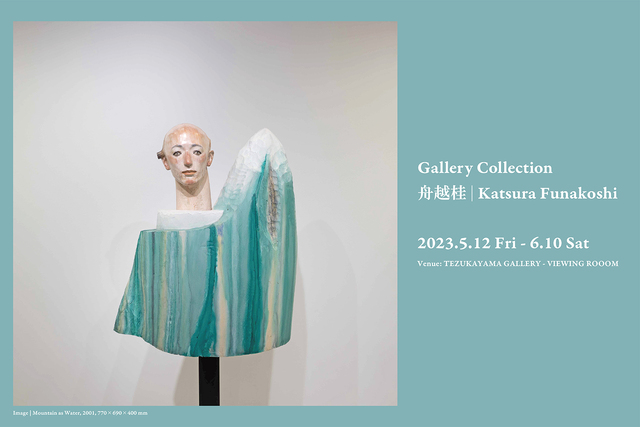 Viewing Room
Gallery Collection – Katsura Funakoshi
Katsura Funakoshi
2023.05.12 Fri - 2023.06.10 Sat
TEZUKAYAMA GALLERY is pleased to present the "Gallery Collection – Katsura Funakoshi" exhibition.
Born in 1951 in Morioka Prefecture, Funakoshi Katsura burst onto the art scene with his fresh, new style in the 1980s. After winning acclaim for his figurative portraits made of camphorwood, Funakoshi's activities have expanded internationally, presenting at the Venice and Sao Paulo Biennales, Documenta in Kassel, and solo exhibitions in London and New York, and he continues to attract the attention of many people who are deeply interested in the existence of human beings.
In the chaos of today's society, where everything is changing at a dizzying pace, Katsura Funakoshi's work stands quietly as if it casts a ray of light and illuminates the way forward.
This exhibition focuses on the work of Katsura Funakoshi, one of Japan's leading contemporary sculptors, and features several carefully selected sculptures and drawings from the gallery collection.
[Prologue to the Exhibition]
When I visited the United States in 1995, I encountered Katsura Funakoshi's wood sculptures for the first time at the Metropolitan Museum of Art in New York. The encounter had a lasting impression on me, and I became fascinated by Katsura Funakoshi's work. Twenty-eight years have passed since then, and I finally welcomed his work into my gallery collection. As someone involved in Art, this is a moment of happiness.
Ryoichi Matsuo (TEZUKAYAMA GALLERY / Owner Director)