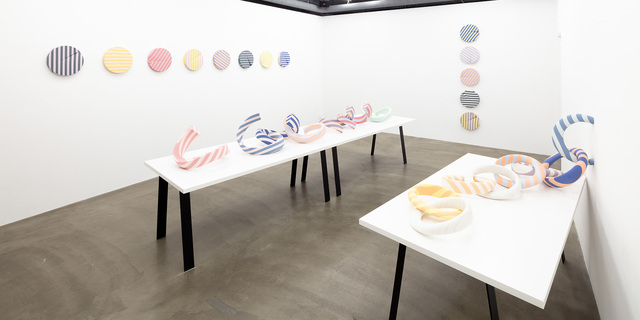 Main Gallery
FORM FROM
Tomoko Sakumoto
2020.04.03 Fri-2020.4.25 Sat
TEZUKAYAMA GALLERY is pleased to present "FORM FROM", a solo exhibition by Tomoko Sakumoto.
Born in Okayama Prefecture in 1978, Tomoko Sakumoto is an artist who creates three-dimensional porcelain works. She graduated from Okayama Prefectural University in 2002 and currently works as a lecturer at the Faculty of Design, Okayama Prefectural University.
Sakumoto's works are not in the form of containers for daily use but are formative artwork, born from her constant search for authentic expressions. The root of such works is the artist's desire to "broaden the potential of ceramic art by exploring new shapes and beautiful colors using ceramic art techniques".
Each item with a distinctive stripe pattern and elegant form is first created in parts using a gypsum mold for each line, into which slurry made of kneaded translucent porcelain earth and pigment is poured. Afterward, the components are combined into one piece of work that is slowly dried for about one month, followed by baking at high temperatures for a day. After gradually cooled for a week, the surface is polished carefully to obtain a shiny finish.
By using delicate techniques in a lengthy process, Sakumoto's works have shapes that are sometimes inconceivable at first glance. The simple elements are sublimated into highly original works with dynamic tension and exquisite beauty.
This exhibition, which is held for the first time in about four years at TEZUKAYAMA GALLERY, is structured in a way that makes the gallery space and works reverberate each other by arranging works with highly complex forms or combining multiple independent works and taking into account the way the stripes are connected and the color balance of the entire space. Please come and enjoy the Tomoko Sakumoto's exhibition that conveys the further deepening of artistic expressions.