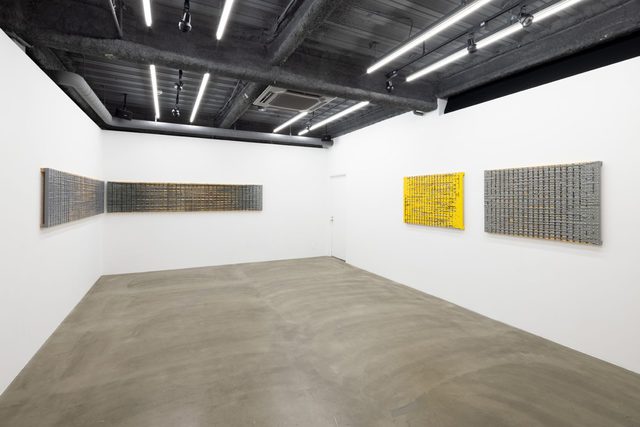 Main Gallery
Exhibition 2021
Yuki Tsukiyama
2021.07.02 Fri - 2021.07.31 Sat
TEZUKAYAMA GALLERY is pleased to announce a solo exhibition "Exhibition 2021" by Yuki Tsukiyama from the 2nd of July.
Born in 1976, Hyogo prefecture and currently lives there.  Graduated Kyoto University of Arts (sculpture course).  He uses various kinds of materials such as metal, resin, wood, and painting; however, his origin of creation is always at materials themselves. He experiments over and over that he calls this "playing" and he grasps the characters of materials from the experiment.  In terms of that he uses the character of materials as part of his main point of work, he has a consistency that comes from it.   Additionally, he constructs his work with simple elements however, he does not stick with one style and always creates new works with continuous curiosity and open-minded thoughts.
The paintings that created by using the rotation of potter's wheel *1 or a sculpture that he cut 250kg of camphor tree in 6 pieces by using handsaw*2, his choices of materials and methods are wide-ranged thus, facing materials strictly and his extraordinary creation of repeating itself is the key element of his work.  
Started with an exhibition in 2017 at TEZUKAYAMA GALLERY, we started the "Exhibition Project" that will exhibit Tsukiyama's new work once every year for 10 years.  This is the 5th exhibition of this project and we will exhibit new paintings inspired by the process of making "paint it flood" that was exhibited in "Exhibition 2017" and others.
Please take this opportunity to see his works.  
[Artist's statement]
I felt that the movement and rhythm of the paints that were dripping from the edge of the panel was interesting in the process of making "paint it flood" that I presented in 2017 and the impression of this was the starting point of the "score".
The paints that drip and dry out without any sounds make shapes like icicles. Why is it possible to look at this flow of paints for a long time?
The regular and sometimes irregular rhythm of the dripping paints and the form that layered and rising formation by those paints are uncontrollable by a creator and that is the fascinating point of this.
Even or odd number, a roll of dice is also uncontrollable. However, I think uncontrollable things will show us the common scene or phenomenon when it is being layered repeatedly.
The flow of things and matters that I cannot control or is not decided by the creator but spontaneously.  Materials, tools, ideas, space, and time, I can say that all of the things that relate to creation and presentation are always gathered naturally around me.
Yuki Tsukiyama