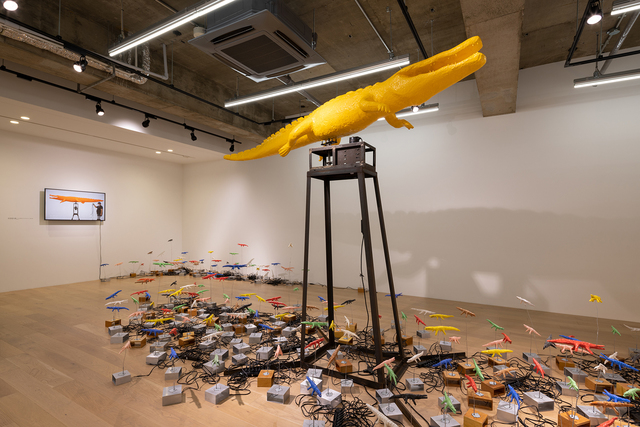 Viewing Room
Don't Ask Why the Crocodiles Spin
Tamura Satoru
2022.9.16 fri - 10.15 sat
We are pleased to announce that we are co-hosting the solo exhibition Spinning Crocodiles by Satoru Tamura, who is based in Tochigi Prefecture with MAKI Gallery.
At this exhibition, continuing from his solo exhibition at The National Art Center Tokyo this June, we will focus on the Spin Crocodile series that he has been creating for almost 30 years. More than 1,000 crocodiles are going to spin at two venues, Minamihorie, Osaka, and Omotesando, Tokyo, and an explosion of colors and movements will wrap up the audience with unrealistic dynamism. Despite the fact that Tamura's crocodiles are electronic machines, they have their own unique warmth and characteristic that come from him making these works with his own hands, one by one, and have unique names.
This will be the opportunity that will bring together Tamura's crocodile from old works to his newest works that could have been said to be his origin as an artist who has been creating works with the concept that diminishes the meaning and purpose of the work itself.
[Artist Statement]
Don't ask why crocodiles spin.
In the fall of my third year at university, I had the assignment to create "art equipment using electricity." Unfamiliar with electricity and no experience in the field, I was at a loss. The night before I was supposed to announce my plan, I decided to go to bed thinking whatever I envision first thing in the morning would be what I was going to make. The next morning, for some reason, it was an image of spinning crocodiles that popped up in my head. I didn't know why but I decided that was it. I made a 4.5-meter crocodile spinning at 30 rpm (in 1994), and it was so beyond my comprehension that I was intensely excited, as if I had encountered something completely alien, although it was me that created it. It was then that I first became really conscious about becoming a creator.
After that, I continued my creative activity for several years, thinking about the meaning of why "crocodiles spin," until I finally realized that it was not the "spinning crocodiles" that was meaningful, but that this mysterious situation where "crocodiles are spinning, and I don't know why" is the essence of the work.
There is no answer to the question, "Why do crocodiles spin?" I would like you to take this big question home with you.
Satoru Tamura