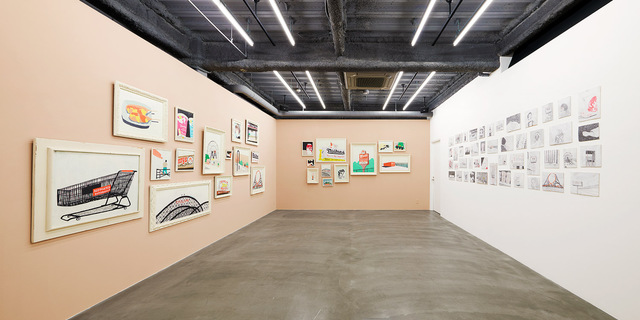 Main Gallery
Coney Island Project
Kotatsu Iwata
2018.05.11 Fri-2018.06.02 Sat
TEZUKAYAMA GALLERY is pleased to announce a new exhibition, "Coney Island Project", by New York-based Japanese painter, Kotatsu Iwata.
Iwata was born in Osaka in 1974. With the admiration of American pop art created by artists such as Andy Warhol and Roy Lichtenstein, he decided to move to New York in 2004 to begin his art career. Motifs from advertising, magazines, cartoon characters, and other images that we see in daily life can be found present in Iwata's work, but looking closer they are more than just that and flat colors. Iwata's work is layered with soft pop tones, texture, traces of pencil drawing, and nostalgia.
In this exhibition, we will present a selection from more than 150 paintings and drawings created by the artist, based on the theme of Coney Island – a summer destination commonly for New Yorkers lined with an aquarium and amusement parks along the coast of southern Brooklyn. On his way to a fishing trip from Coney Island Station one day, Iwata was immediately inspired after seeing a desolated roller coaster backed with an early morning blue sky.
Soon after he took a collection of pictures of retrospective items he noticed on trips between the peninsula and his home. Some of which include fair rides, fast food signs, and shopping carts to name a few. With them, the artist created this series of paintings and drawings that allure a sort of feeling we once had as children, as if we were once in Coney Island, without ever having been there.