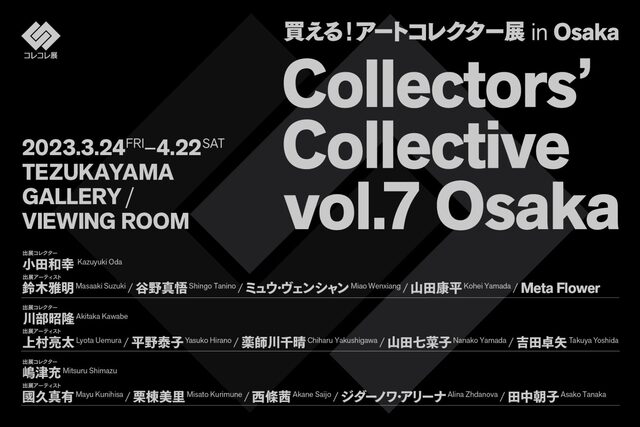 Viewing Room
Collectors' Collective vol.7 Osaka
Various Artists
2023.03.24 Fri - 2023.04.22 Sat
[About Collectors' Collective]
This exhibition is the collectors' exhibition which will be held by three collectors from West Japan that involve actively with artists and other collectors.
The main difference compare to the other collectors' exhibitions is that visitors can purchase the artworks that are being exhibited.
We will not only show the collections of collectors and their favorite works with their palatability but also provide the opportunities to purchase the new artwork from the artists that they are keeping their eyes on now.  
[Two characteristics of this exhibition]
1)Three collectors will exhibit their collections.
2)Three collectors will pick the newsworthy artists of 2023. 15 artists will reveal their new works and sell them.
[Participating Collectors & Artists]
Collector: Kazuyuki Oda
Artist: Masaaki Suzuki / Shingo Tanino / Miao Wenxiang / Kohei Yamada / Meta Flower
Collector: Akitaka Kawabe
Artist: Lyota Uemura / Yasuko Hirano / Chiharu Yakushigawa / Nanako Yamada / Takuya Yoshida
Collector: Mitsuru Shimazu
Artist: Mayu Kunihisa / Misato Kurimune / Akane Saijo / Alina Zhdanova / Asako Tanaka