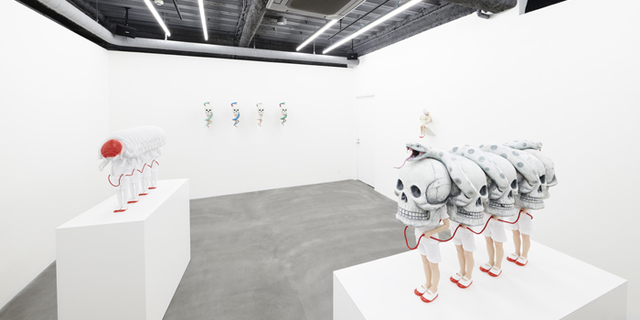 Main Gallery
Bōzu Bones Born
Yoshiyuki Ooe
2018.04.06 Fri-2018.04.28 Sat
TEZUKAYAMA GALLERY is pleased to announce its upcoming exhibition "Bōzu Bones Born" by Yoshiyuki Ooe.
Ooe is a native Osakan born in 1980. Once upon a time creating 2D portraits of himself, he progressed onto sculptures since 2007. "Changing the view changes the meaning and perception" is the motto of Ooe's work.
Often appearing in his work is a schoolboy in his P.E. uniform. With it, he combines other motifs such as skulls, chicken heads, or butterflies in an attempt to isolate them from their original context; transforming them into a new perception, while carefully to not give only one story or impression.
With his work appearing internationally in recent years, he notably participated along with TEZUKAYAMA GALLERY in an art fair in London known as Art15. He was then featured in the London Times and the year following that, his work was chosen to be the main display image, taking a spotlight position of Art16.
In the coming exhibition, Ooe features works titled "Souvenir" and "Souvenir Jacket", where he continues the use of schoolboys in their uniforms. Showcasing the unique view of Ooe, the boys are wrapped around by a snake carrying skulls, playing a game of trains, and wearing skulls masks. These motifs were inspired by the patterns of Japanese embroidered bomber jackets, which were a popular item to take home for American soldiers during the post-war occupation – hence the name.
Ooe is an artist who recaptures things from different angles and connects them to others to create a new relationship and scale. His work makes us broaden our perception and interpretation.