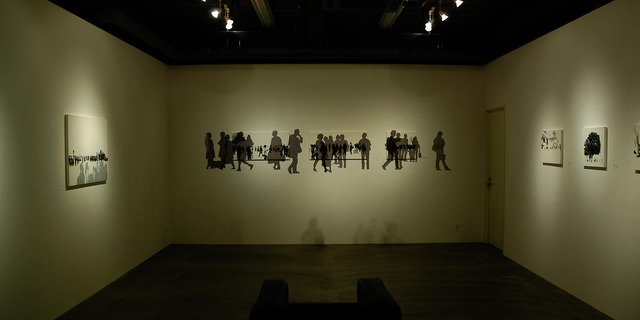 Main Gallery
a view – Decomposition and reconstruction
Kaoru Soeno
2012.4.20. Fri-2012.5.12. Sat
Tezukayama Gallery is delighted to present "a view – Decomposition, and reconstruction-", a solo exhibition by Kaoru Soeno, a Japanese artist appreciated in Japan as well as internationally. Her work is praised by a varied audience.
Soeno's work mostly focuses on crowded sceneries such as a train station at rush hour or perhaps a busy intersection. However, by removing all the background information of the scene, she then concentrates solely on the people, capturing them on a black and white monotone. The scene becomes completely different offering the viewer the change of imagination its own new story.
Soeno has pointed that the interesting thing is that a change in perspective is how she creates her work.
She strongly feels that after removing its original meaning, a new one will stand out from the comings and goings of people in the cities that she draws.
Soeno has "decomposed" the charm of this motif to produce a new perspective, one that is presented as artwork.
Tezukayama Gallery would like to present her works tentatively as a "reconstruction" in the gallery space to show the diluted but noisy sense of feel from the crowds and traffic scene.
In the previous exhibition 3 years ago we exhibited the continuing 28 works methodologically placed in the three walls which were utilized. On display this time there will be about 40 works shown in a different angle, her new "reconstruction".