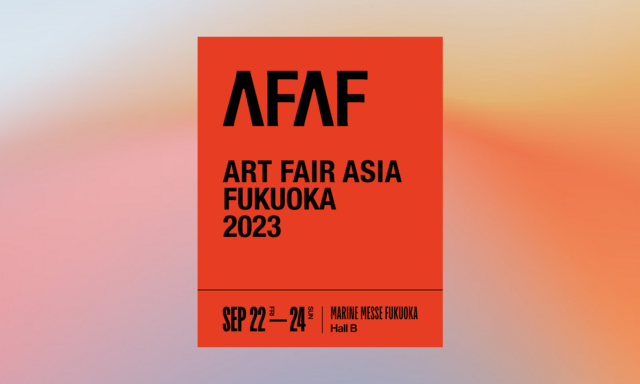 Art Fairs
ART FAIR ASIA FUKUOKA 2023
Takuro Sugiyama、Akiko Sumiyoshi、Naosuke Wada、YU SORA
2023.09.22(Fri.) - 2023.09.24(Sun.)
ART FAIR ASIA FUKUOKA (AFAF) is one of the largest art fairs in Japan and has been held in Fukuoka since 2015. This year's 8th exhibition will be co-hosted by Fukuoka City and Culture Vision Japan Foundation Inc., and will be held at "MARINE MESSE FUKUOKA Hall B", an even larger venue than last year.
The "ASIA" section introduces Asian artists, and the "Unlimited" section showcases works recommended by talented gallerists. You can experience the charm and enthusiasm of art through the "The Wall" section, which focuses on emerging artists, and collaboration booths with other industries.
Fukuoka has long flourished as a hub for the flow of people and goods to and from Asian countries, and has embraced and developed its diversity. With its hospitality, we aim to create a fair that will serve as a bridge between the Japanese and Asian art markets. We sincerely look forward to your participation in ART FAIR ASIA FUKUOKA 2023 as we take our first step into a new era and a new world.
[Artists]
Takuro Sugiyama、Akiko Sumiyoshi、Naosuke Wada、YU SORA
[Period]
2023/9/22(Fri) – 2023/9/24(Sun)
[VIP View]
9/21(Thu) | 16:00-20:00
9/22(Fri) | 11:00-14:00
[Public View]
9/22(Fri) | 14:00-19:00
9/23(Sat) | 11:00-19:00
9/24(Sun) | 11:00-17:00
[Venue]
ARINE MESSE FUKUOKA Hall B
2-1 Okihama-machi, Hakata-ku, Fukuoka City, Fukuoka
[Detail]